Motherhood doesn't allot much time for primping in the mornings so typically I try to squeeze in a quick shower/bath sometime during naptime and God willing I attempt to do my hair and makeup. The only problem is there is usually only time to really either do my hair OR my makeup, not both.
I'm a girly girl to the core minus the obsession most girly girls have with pink. I love doing my makeup and I always feel so much more beautiful when my hair is done. This is where a major decision comes into play during my day. Do I do my hair? Do I do my makeup?
I'm a slave to a ponytail.
The time involved in pulling my locks back into a rubberband is monumentally fast so for obvious reasons this is my go to hairstyle. So much so that when I do actually style my hair I forget how badly I need a haircut. I tried to straighten it the other day and WOWZERS. I forgot I was still in the process of growing my bangs out so I look like I'm rocking a nappy mullet. I know what you're thinking, calm down the hottness!
The good thing with rocking a ponytail is that I can put on my war paint makeup. I'm one of those girls who desperately needs mascara. Without it my lashes are so fine you can barely see them. Thank goodness for 3d Fiber Lashes mascara from Younique! There is also something about swiping on a fierce color of lipstick that just makes me feel so feminine and fabulous.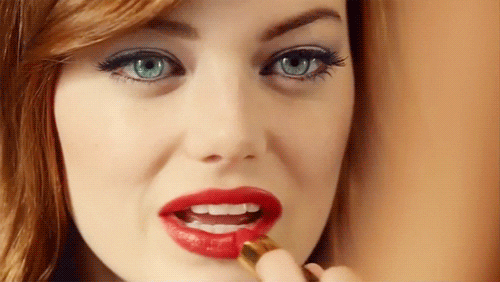 A big down side to only doing your makeup is that sometimes certain shades of lipstick are worthy of BIG Texas hair. Make fun of me if you want but I swear every time I get out of the shower I ask myself the big question "Do I go with hair or makeup?!?!" It's coming down to a mathematical equation. It's all about the time variable. Let me just say this though….on those days when I am able to go all out on both I feel as if I can conquer the world!!!